MIDMARK autoclave sterilizers have been a prized piece of equipment in the medical, dental, podiatry and veterinary professions for decades. And Zerimar has been working on them for quite a while!
There are still some older models out there in the field bearing the name of CASTLE or RITTER. Those trusted brands were bought out by MIDMARK during the 1980s. But, you'll notice that they still put the RITTER name on current-production power tables.
As far as autoclaves, here are a few of the models we work on:
M9 Ultraclave (9-inch diameter chamber)
M11 Ultraclave (11-inch diameter chamber)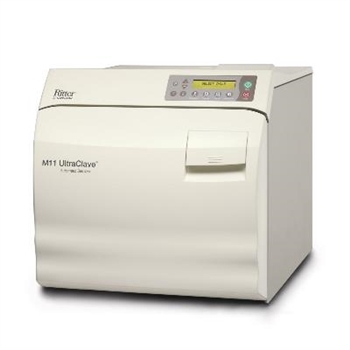 These Ultraclaves are fully automatic, programmable sterilizers. They have a self-opening door and a bright, digital display with push-button controls. The newer models also feature closed-door drying.
How to Load Your M9/M11 Ultraclave
One of the more common complaints we get is that sterilized loads are coming out wet. So here is a brief instructional video produced by MIDMARK CORP to show you the correct way to load your sterilizer.
(Hint: the key to a well-processed, thoroughly-dried load consisting of pouches, packs or unwrapped instruments is: proper loading of the trays.
Watch this video for some "how-to" directions from MIDMARK . . .
How to Operate Your M9/M11 Ultraclave
The next thing on our to-do list is a quick look at how to operate the M9/M11 Ultraclave correctly after you've loaded it. That's where this short video can help…
~~~~~~~~~~
Looking for an operator's manual? Here is a link to the complete MIDMARK user's guide for all versions of the Ultraclave: M9, M9D and M11. You'll find it on MIDMARK's website.
Click here for the manual: MIDMARK ULTRACLAVE USER GUIDE
---
~~~~~~~~~~
M7 Speedclave (7-inch diameter chamber)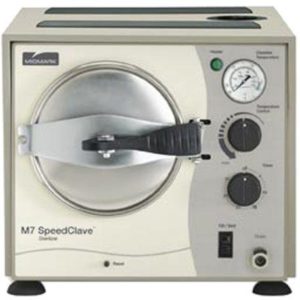 The M7 Speedclaves were a nicely compact, basic sterilizer. Manually operated. No digital controls. There was nothing automatic about it! But it was a fast and easy autoclave to operate. It got the job done for small offices with small demands.
The Speedclaves are no longer in production, but you can still find them used and refurbished if you look around, especially online.
~~~~~~~~~~~~~~
All of these MIDMARK sterilizers are what they call "tabletop" units. That just means they are portable enough to set up on a standard countertop (or tabletop) in a medical or dental office without taking up too much space.
Of course, "portable" is a relative term — especially when we're talking about the M11… Yes, a 100-pound autoclave is technically "portable". But it's still heavy!
Just Add Water
These units are also "self-contained", which means they don't have to be plumbed in like large, built-in hospital autoclaves (or even like certain other brands of tabletop autoclaves). You just fill the reservoir with water — distilled water! — plug the unit in and turn it on.
By the way, this makes them more convenient and economical when it comes time to have them serviced.
So, instead of requiring an expensive service call for a technician to come out and possibly spend hours running and repairing your errant sterilizer, a tabletop unit can be picked up and taken in to the shop for service.
Believe me when I say,… that's better for both of us!
Call Us Today
So, if your office has one of these MIDMARK sterilizers and it needs to be serviced, then give us a call: (480) 497-4392.